January 7, 2020
TOP 25 CHANGES IN THE 2020 NATIONAL ELECTRICAL CODE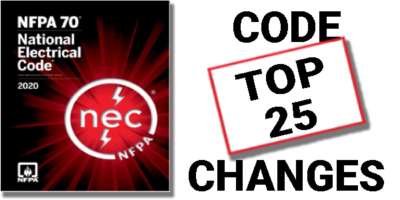 It's that time again… the time we all know so well every three years when electrical professionals everywhere usher in a new Code change cycle. 
Whether you face these revisions with great anticipation, overwhelming excitement, or even a little bit of reluctance or anxiety varies. But one thing is certain: The changes to the latest edition of the National Electrical Code® (NEC) matter. 
Since the NEC continues to be one of the most important topics on our minds at IECRM, we're here to help. That's why we're offering CEU classes, discounts, and opportunities for all of our members and their electricians to renew your journeyman licenses. In order to make these comprehensive changes more manageable and easier to digest, we've included this short list with handy references to the code sections, which summarizes the most important revisions to the 2020 NEC that affect the largest number of our readers. Just remember that there are more than 100 changes to the Code in 2020, so don't overlook the other 75 as you peruse this list. Need to purchase your 2020 Code Book? Click here to obtain yours today.

Editor's Note: The information presented in this gallery is based on Mike Holt's full 2020 National Electrical Code Changes article, which ran in the November 2019 print issue.
No. 1 – Terminal Connection Torque: This revision to Sec. 110.14 requires the use of an approved means to torque terminations and adds three Informational Notes.
No. 2 — Identification of Disconnect Means: Per Sec. 110.22, the disconnecting means now requires the identification of the source that supplies the circuit disconnecting means.
No. 3 — GFCI Protection: Revisions to Sec. 210.8 are many and include clarifications, expansions to existing rules, and a few new items.
No. 4 — Lighting Load for Non-Dwellings: The scope of Sec. 220.12 was modified to only include lighting loads for non-dwelling occupancies, the lighting load table was revised to follow the maximum permitted lighting loads as specified by current energy codes.
No. 5 — Surge Protection: The new Sec. 230.67 requires the installation of a surge-protective device (SPD) for all dwelling unit services.
No. 6 — Number of Service Disconnects: A service is required to have only one disconnecting means; except as permitted in Sec. 230.71(B).
No. 7 — Emergency Disconnects: A new requirement for one- and two-family dwelling units to have an emergency disconnect installed in a readily accessible exterior location was added to Sec. 230.85.
No. 8 — Metal Enclosures: New Sec. 250.109 permits metal enclosures to be used to connect bonding jumpers or equipment grounding conductors as a part of the effective ground-fault current path.
No. 9 — Conductors: Additional language was added in (B)(1) of Sec. 300.3 to ensure that when connections, taps, or extensions are made from paralleled conductors, each connection involves all the paralleled conductors of each phase and/or neutral.
No. 10 — Receptacles in Damp or Wet Locations: The prohibited locations for receptacles in bathrooms has been expanded in Sec. 406.9, and a new exception was added to permit the installation of receptacles in small bathrooms.
No. 11 — Tamper-Resistant Receptacles: Four of the existing list items, (1), (2), (4), and (7) in Sec. 406.12 were modified and an eighth list item was added.
No. 12 — Special Provisions for Horticultural Lighting: A new "Part XVI" was added to Art. 410, that specifically addresses the unique requirements for what is now becoming better known as "grow" facilities.
No. 13 — GFCI Protection: There were editorial revisions to the text of subsection (A) in Sec. 422.5, and the list of items was expanded to include sump pumps and dishwashers.
No. 14 — Health Care Facilities — Applicability: Sec. 517.10 has been revised to show additional areas that are not covered by the rules in Part II of Art. 517.
No. 15 — Marinas, Boatyards, Floating Buildings, and Docking Facilities — Boat Hoists: This rule was relocated from Sec. 210.8(C)  to Sec. 555.9 and requires that GFCI protection be provided for dwelling unit boat hoists outlets, regardless of voltage or amperage.
No. 16 — Marinas, Boatyards, Floating Buildings, and Docking Facilities — GFPE and GFCI Protection: Sec. 555.35 was relocated here from 550.3 and divided into two sub-parts: Ground-Fault Protection and Leakage Current Measurement Device.
No. 17 — Overcurrent Protective Devices: The equipment used to provide temporary access to electricity is rarely used on a "one-time and done" basis, so they're often re-used on many jobs. This rule was added in Sec. 590.8 to provide guidance for AHJ's on the reuse of equipment for temporary applications.
No. 18 — Remote Location: This new subsection, Sec. 600.6(A)(4), addresses first responder access to remotely located disconnects. When a remote sign disconnect is installed, it must be in a location that is readily accessible to firefighters and service personnel and clearly marked to identify what the disconnect controls.
No. 19 — Electric Vehicle Power Transfer System: Both the title and scope of Art. 625 were changed in Sec. 625.1 to include systems that permit bidirectional current flow of electricity. A new definition was added to Sec. 625.2 for electrical vehicle power export equipment (EVPE) and clarification that some electric vehicles can supply electrical loads external to the vehicle.
No. 20 — Splash Pads: The term fountain was expanded in Sec. 680.2 to include "splash pads." The term "splash pad" was added to the definitions ― it is a type of fountain making all the requirements for fountains apply to splash pads.
No. 21 — Inspections After Installation: New Sec. 680.4 allows the authority having jurisdiction (AHJ) to require periodic inspection and testing of the pool system.
No. 22 — Motors for Permanently Installed Pools: GFCI protection of motors was expanded and a new subsection in Sec. 680.21 requires GFCI protection to be provided for existing pump receptacles when replacing a pool pump motor.
No. 23 — Fountains — Grounding and Bonding: The title and sections for the bonding and grounding of "Fountains," have been combined, expanded, clarified, and relocated in Sec. 680.54 to better include bonding as well as grounding.
No. 24 — Fire Pump Services and On-Site Power Production: Because a fire pump room is required to be 2-hour fire-rated, a new exception was added to Sec. 695.6(A)(1) to clarify that supply conductors within the fire pump room are not required to be installed in accordance with 230.6. The fire pump controller is often service equipment, and the fire pump equipment may all be three-phase. A new informational note was added to call attention to the requirements of 250.24(C) requiring a neutral conductor be installed to the service equipment.
No. 25 — Optional Standby Systems ― Meter-Mounted Transfer Switches: A new paragraph was added to Sec. 702.5(B) to address the use of meter-mounted transfer switches.