IECRM Annual Business Dinner and Board of Directors Election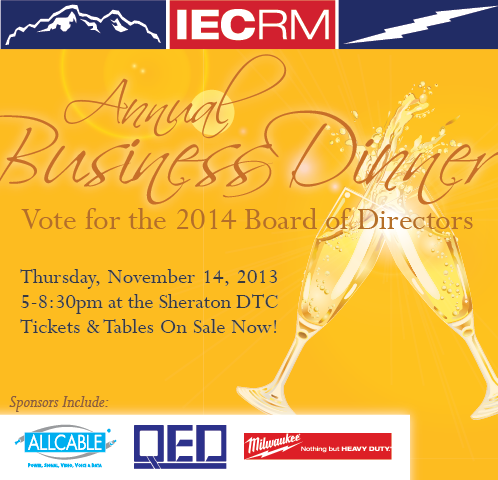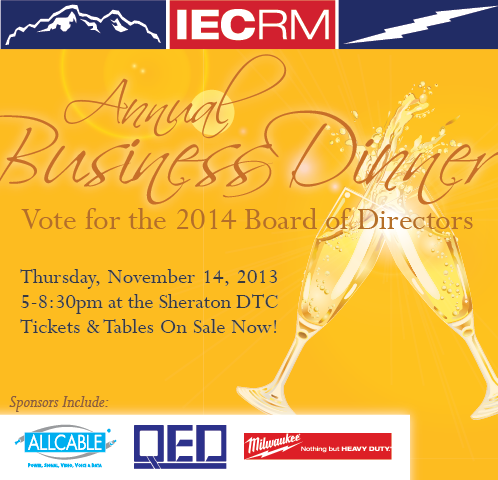 Date/Time Date(s) - Thursday, November 14, 2013
5:00 pm - 8:30 pm
Location Sheraton Denver Tech Center Hotel
The IECRM Annual Business Dinner is an annual dinner for the individuals and businesses that make up the IECRM trade association. Guests will hear brief speeches from the 2014 Board of Director nominees, and then vote.
Sponsor a contractor! Consider buying a ticket or table for your top clients.
This year's dinner will take place at the Sheraton Denver Tech Center Hotel in Greenwood Village.
This event is a way for IECRM member companies to get together in a warm atmosphere and celebrate each other. It is a coming together to reflect on the past year's events and milestones, and to start planning for new business opportunities in 2014.
The Premier Sponsor of the Annual Business Dinner is TBD.  The Bar Sponsor of the evening is Allcable. The Cocktail Hour Sponsor is QED.  Dessert Sponsor is Milwaukee Tool.
Dinner Menu
Please choose from the following two dinner options (you can select your meal of choice when you purchase your ticket below). Please be aware that you cannot change your selection at the event.
Turf & Turf
Beef tender medallions with a port wine demi-glace, chicken Wellington with a demi-glace, with cheesy potato au gratin, asparagus and baby carrots medley.
Vegetarian Plate
Polenta and grilled portabella mushrooms with a red pepper sauce, with seasonal vegetables.
As always, please email Kristin (kristin@iecrm.org) with other meal requests, allergies, or dietary restrictions. 
Nominate yourself for the 2014 Board of Directors
To nominate yourself for consideration for the Board, please email IECRM CEO, Spenser Villwock, spenser@iecrm.org, by end of day, Friday, October 25, 2013, providing your:
Name

Company

Telephone

Brief 1 to 2 paragraphs on your background & interest in serving on the IECRM Board

And a JPG headshot (if available)
The IECRM Board of Directors provides you with the opportunity to help guide our industry into the future-creating a strong business environment for electrical and energy contractors. As an IECRM Board member, your commitment and dedication serves as a beacon to others in the trades and community.
Expectations of the two-year term (January 2014-December 2015) include:
Attend monthly IECRM Board of Directors meetings – typically the 4th Thursday at 7am
Serve on at least one IECRM Committee

Board of Trustees, Emerging Leaders, Government Relations, Membership & Events, and Safety

Attend at least three IECRM Major Events:

Major events include the Summit Awards Banquet, Wire-Off Competition/Trade Show, Graduation Ceremony, Golf Fundraiser, Business Dinner, and Holiday Celebration
Bring an unwrapped toy for Toys for Tots!
Please bring an unwrapped, new toy to help us kick off our US Marine Corps Toys for Tots drive, which will continue through the holiday season!
Toys for Tots is a charitable program that delivers new toys to economically disadvantaged children during the holiday season.
Buy tickets to the Annual Business Dinner below!
Category(ies)
Register
Bookings are closed for this event.